Visit the Guitar Tours Gallery
New! Model 2674
Proof that basic black is always a classic!
Discussion Board
Surveys:
-What's in Your Collection?
(Parts 1 & 2)
-Guitar Buying Over the 'Net.
-What Do You Think of Auctions?
Visit the Miscellaneous Section of the Discussion Board
HELP: How to Upload Pictures to the ICW Discussion Board
Links To Other Sites of Interest
---
Q.
Who wrote "the first book" on Ibanez guitars?
A.
Michael Wright. And it's called: Guitar Stories, Volume One.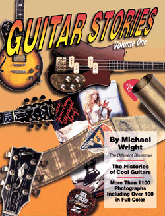 Unfortunately, it's out of print! If you'd like to see this book reprinted, then contact the original publisher, Vintage Guitar Magazine, and let them know.
In the '60s and '70s several Japanese
instrument manufacturers built guitars which were imported throughout the world.
Although some of these guitars were original designs, many were replicas (affectionately known as "copies") of guitars made by established companies such as Gibson, Fender, Martin, Rickenbacker and others.
Ibanez is a brand name used by the Hoshino company to market guitars in the US, Australia and Europe. Even though these guitars typically sold for much less than the "brand name" guitars, the quality of many Ibanez guitars was extremely good.
Since the mid 70's Ibanez has been producing many original design guitars that have become respected among professional and amateur guitarists alike. They've also manufactured a successful line of guitar effects and other "peripheral" products for musicians. This site is dedicated to the discussion and collection of information of Ibanez products.
Ibanez Collectors World can only be a success with your help. Participation is the key. Please let us know if you have any suggestions or comments.
Ibanez is a trademark of Hoshino. ICW is not affiliated with Ibanez or Hoshino.