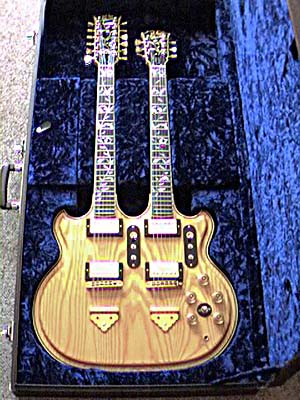 The Artwood Twin is one of the rarest, original- design Ibanez guitars.
According to Michael Wright's, Guitar Stories, Vol. 1, there were only supposed to be 12 made.
This pristine sample is owned by an Ibaneezer out in California, USA by the name of Malden.
How do you acquire such a rare beauty? Malden explains: "I got it from a pawn shop. Some guy called me because he read my ad on the net looking for one. He said he's got one and if I want to, come and inspect it. Since he was local, I went over. When I saw it I couldn't believe the condition.
"Even though the guitar was somewhat dirty from sitting in a dusty environment for a long time, it showed real beauty behind all that dust. When I got it home I spent at least 2 days cleaning every single corner and restored it to its original condition."
As you can see, this combination 12 and 6 string is a colossal hunk of ash. Malden hasn't weighed it, but estimates it to be 1-1/2 times heavier than a comparable ash Professional (like the Bob Weir model, I'd say.)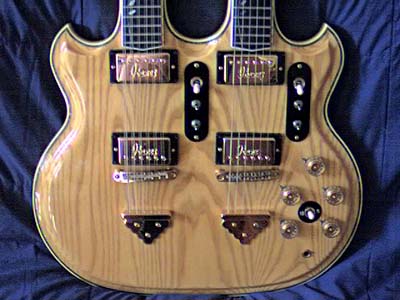 Here's a shot of the back. Only one cavity for the controls in the lower bout. Just look at the grain on this puppy!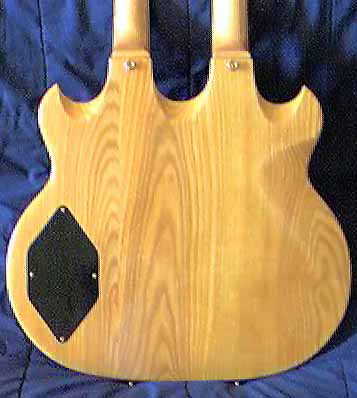 From the condition, it's hard to image that this guitar is probably close to 25 years old.
We can't date it exactly, because there is no serial number. But that fact, and the "Ibanez embossed" pickup covers helps to pinpoint '74-'75 as the manufacture period.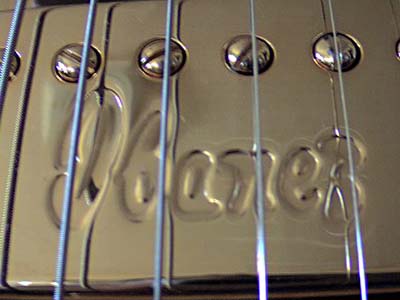 Yikes, more controls than a 747!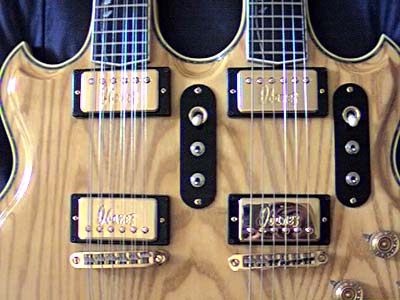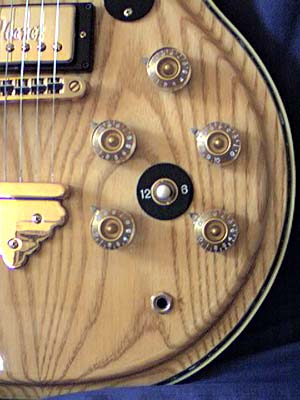 As you see above, each of the four pickups has a phase switch and there's a standard, 3-way toggle selector for each set. So, you've got plenty of variations in sound coming from this critter, whichever neck you decide to play. Next, you have two tone and two volume pots and a master volume, an additional toggle to select between necks. And finally, a pretty normal looking output jack.
Just look at all those stars on the back of these two pegheads. The scrolled and scalloped headstocks are true works of art.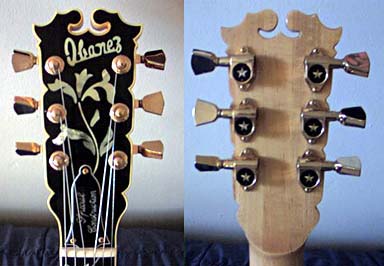 Can you guess what sentence we're sure Malden doesn't want to hear? ("I think you're out of tune, dude.")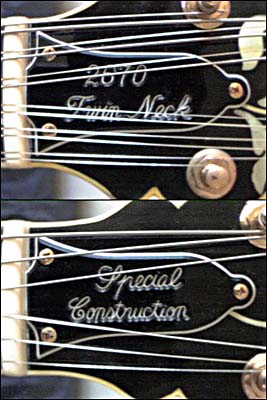 We thank Malden for sharing these great pictures with Ibanez Collectors World and also telling us something about his "baby". He's done a first rate job of restoration.
There's no doubt about it, the Artwood Twin, Model 2670 is most certainly a "Special Construction" guitar from Ibanez!